Mansions On Long Island's Gold Coast
Jan 13
1,200 homes were erected on Long Island's North Shore – the Gold Coast – over a forty-year period from the 1890s to the 1930s by some of America's richest men and women. Only about a third of the more than 1,000 great estates that formerly existed survive today. Here's a look at some Long Island mansions and the North Shore's most stunning estates that are available to the public today.

Long Island Mansions On The Gold Coast

Caumsett State Historic Park Preserve
Huntington, NY 11743
Caumsett, once the opulent mansion of department store owner Marshall Field III, is now a New York State Historic Park Preserve. Visitors may now participate in a variety of outdoor activities such as walking, running, bicycling, hiking, enjoying the gardens, fishing, bird watching, horseback riding, and more. The majority of the activities are offered all year. Caumsett also hosts a variety of park activities, such as maple syrup lessons, bird watching programs, and family scavenger hunts.
Chelsea Mansion
East Norwich, NY 11732
Chelsea Mansion, constructed in 1924 and once the home of Benjamin and Alexandra Moore, is located on the northern end of the 550-acre Muttonwood Preserve, Nassau County's biggest nature preserve. Weddings, business retreats, private gatherings, and other festivities are all held at Chelsea Mansion.
Other visitors may take use of the preserve's facilities, such as self-guided excursions on established paths and animal observation.
Nassau County Museum of Art
Roslyn Harbor, NY 11576
What is now the Nassau County Museum of Art was originally known as Clayton, an opulent house acquired for Henry Clay Frick's son, Childs, by Henry Clay Frick, co-founder of US Steel. Visitors may now visit The Museum to see a remarkable collection of art from the nineteenth, twentieth, and twenty-first centuries. It hosts both permanent and rotating art exhibits, as well as a permanent sculpture garden, events, lectures, seminars, and nature walks via its popular Education Department.
NYIT de Seversky Mansion
Old Westbury, NY 11568
This Gold Coast Mansion, formerly owned by billionaire Alfred I. du Pont, is now known as de Seversky Mansion, a wedding venue owned by The New York Institute of Technology (NYIT). The lovely estate and surroundings serve as a fantastic backdrop for weddings, social gatherings, and other events held at NYIT de Seversky Mansion throughout the year. Additionally, earnings from the mansion events assist NYIT and its students.
Oheka Castle
Huntington, NY 11743
Otto Hermann Kahn's opulent house from the 1920s has been restored to its full splendor! Hundreds of wedding receptions, celebrations, and business events are held at Oheka each year. The estate is used for picture shoots and movie sequences, as well as weekend vacations and golf and tennis packages with Cold Spring Country Club. Oheka also provides guided tours of the castle by appointment.
Old Westbury Gardens
Westbury, NY 11590
John S. Phipps and his family were the first to live at Westbury House. The home and grounds have been restored, and Old Westbury Gardens is now available to the public. Visitors may take guided historical tours of the house and gardens, participate in educational programs and talks on nature and horticulture, attend outdoor concerts and festivals, and enroll in gardening workshops. The Gardens welcome the general public as well as school groups to enjoy the estate's well-kept nature and beauty.
Planting Fields Arboretum State Historic Park
Oyster Bay, NY 11771
Coe Hall, the home to William Robertson Coe, a wealthy shipping insurance magnate, and his family, has been restored to its former glory. During the estate's open season, from March to September, visitors may take guided or self-directed tours. Visitors may enjoy the Planting Fields Arboretum, which has some of the most stunning botanical exhibits in the Northeast, in addition to seeing the estate and learning about the history of the property and the Coe family. Planting Fields is also a popular site for student field excursions and a place for spring and summer concerts and outdoor entertainment.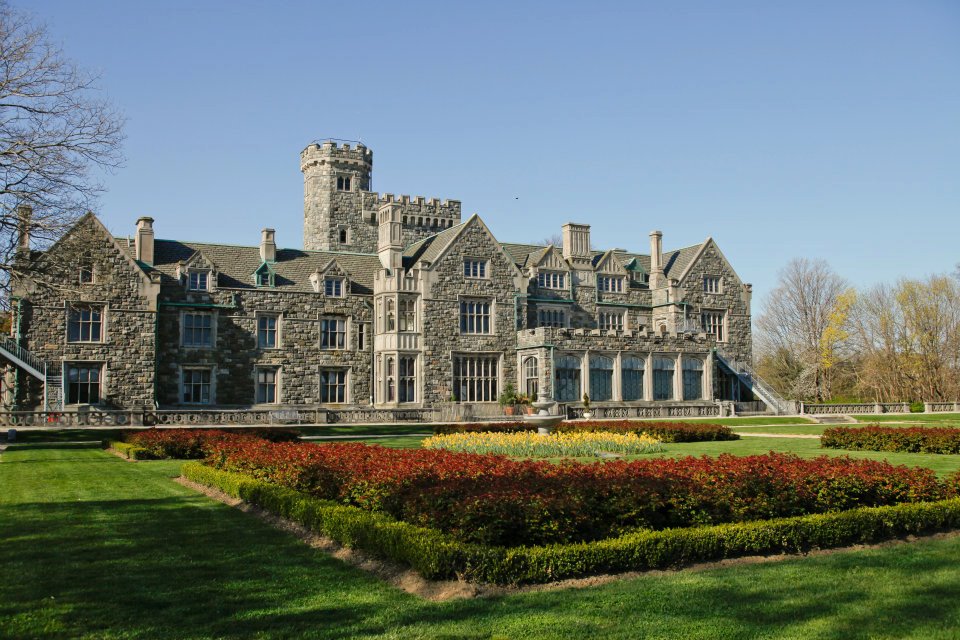 Sands Point Preserve
Port Washington, NY 11050
Sands Point Preserve, once the Guggenheim family's residence, is now a 216-acre preserve open to the public for a variety of outdoor activities. Sands Point Preserve, a place of structural and natural beauty, has hosted film shoots, wedding ceremonies, and a variety of other events. Hiking routes wind through the estate's vegetation, allowing plenty of area for nature hikes, running, and seeing the many flora and animals that call the preserve home. Visitors may also enjoy the Long Island Sound beach, educational activities focused on wildlife conservation and discovery, fitness courses, musical concerts, and children's summer camp programs.
Vanderbilt Museum & Planetarium
Centerport, NY 11721
The William K. Vanderbilt estate is now a museum, planetarium, education center, entertainment venue, and wedding venue. The museum features authentic objects obtained during Vanderbilt's lengthy globe excursions, as well as the spectacular residence erected between 1910 and 1936. Visitors may tour the estate and museum, as well as see the stunning Charles and Helen Reichert Planetarium, which is housed on what used to be Vanderbilt's tennis courts. The Vanderbilt Museum is also used for special events such as wedding receptions, ballet, theatre, musical concerts, and more.